Letter from the Principal
22 October 2021
Dear Parents and Carers
Mid-Term
The School will close for pupils on Tuesday 26th October at: 1.30 pm for Nursery: 2.20 pm for P1/P2/P3: 3.00 pm for P4/P5/P6/P7. School will re-open for pupils on Wednesday 3rd November at 8.55 am. We will continue to use the entrances to keep everyone safe.
Halloween Celebration
We are having a Halloween celebration for all children on Tuesday 26th October. Children should come to school dressed in their Halloween costume. We will celebrate in the classrooms and, weather permitting, we will have a parade on the playground to add to the excitement and engagement for all of the children.
When arranging costumes, please remember many children are frightened of scary/killer clowns and Squid Games related costumes, so please don't use these. Also swords and other sharp accessories provide a Health and Safety risk to others, please leave these at home and help us keep everyone safe.
Parental Telephone Interviews/Discussions
We are planning to offer these to all parents during the first half of November to ensure that we share important information with you. We hope it will give you the opportunity to do the same, so that we are working closely for the learning and well-being of your children. Detailed information will follow after Mid-Term.
Once again, my sincere thanks for your help and support since September 1st. We have tried to keep all of your children safe, while ensuring they are learning each day. We have tried really hard to keep every aspect of school as normal as possible in these difficult and challenging times and we will continue to do so for the second half of the term and beyond.
I wish you a good Halloween. I hope you enjoy the celebrations. Stay safe and take care of yourselves. I look forward to seeing you all on November 3rd.
Kind regards
Mary McCallion
CHILD PROTECTION AND GDPR
Dear Parent/Carer
If you have any concerns regarding your child's Special Educational Needs, Child Protection or LAC arrangements, please contact me via email (mmccallion607@c2kni.net) and I will forward your queries to the appropriate person on the School Team.
Kind regards,
Mary McCallion
GDPR PUPIL STATEMENT
Our school collects and keeps personal information about you such as:
Your name
Your address
The date you were born
Who looks after you and how we can get in touch with them
Information about your health and allergies
How well you are doing with your learning
We do this so we can:
Keep you safe
Help you to stay healthy, be happy and learn well.
Tell your parents /carers how well you are doing with your learning
We keep this information safe and follow information protection rules/laws to make sure nobody can see or use your personal information unless we say it is ok.
We tell your parents /carers what personal information we have about you, how we keep it safe, what we use it for and who we share it with.
Information is sometimes called data. Keeping personal information safe is called data protection. Remember Personal information should always be kept safe and not shared with people you don't know.
Latest Photographs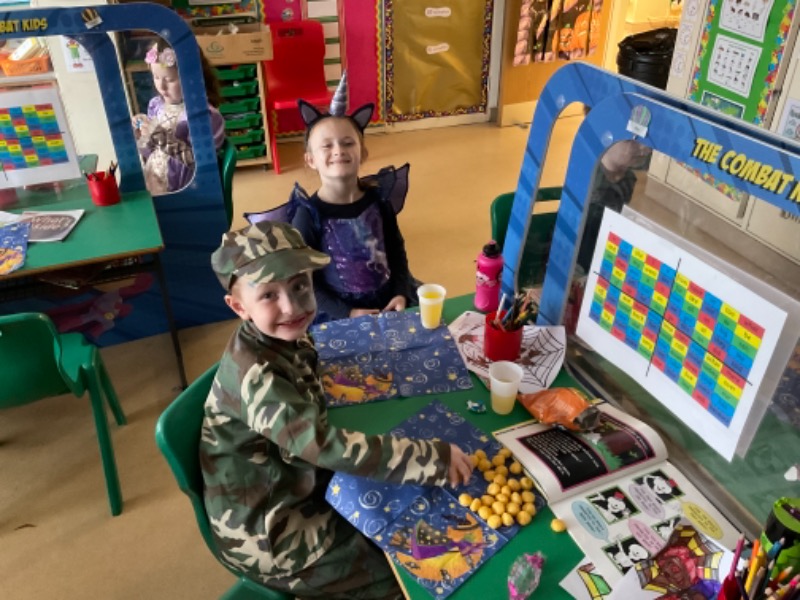 Upcoming Events...
Thursday, 28th October 2021
Halloween Break
Friday, 29th October 2021
Halloween Break
Monday, 1st November 2021
Halloween Break
Tuesday, 2nd November 2021
Halloween Break
Mental Health Awareness Nov 2021
Dear All
I would like to make you aware of the Mental Health Awareness Course that is now available via zoom on 24th Nov 21 . GSAP through our Outer North Extended Schools Programme have teamed up with Global Horizons Ltd to deliver this Mental Health awareness course via a zoom link. NB: the later time of the course was to accommodate teachers or working parents.
Mental Health Awareness Nov 2021
Course: Mental Health Awareness
Date of the course: Wednesday 24th Nov 2021
Time: 6.30pm to 9.30pm
Venue: via Zoom call
For further information on this course, please contact Lorraine McWilliams on
Tel: 028 71358787 or Email: lorraine@shantallow.net
.
Mental Health Awareness (via zoom) - (Breaking the Stigma and Supporting Positive Mental Health in the Workplace)
Course Content
What is Mental Health?
What can impact our Mental Health?
Mental Health Illness
Stress and Stress Management
Looking after your Mental Health
Where to go for help
This mental health awareness programme introduces relevant information, definitions and statistics around key mental health themes.
Global Horizons Ltd ensures, through close liaison with the client and application of current research, that training content across all levels of our mental health awareness portfolio, is contextualised to the sector and company, addressing those issues which resonate strongly with them.
To book the course please use the link below (please highlight then right click to open):
https://www.shantallow.net/Event/mental-health-awareness-nov-2021
For further information on this course, please contact Lorraine McWilliams on Tel: 028 71358787 or Email: lorraine@shantallow.net
Kind regards
Lorraine McWilliams
Projects Development Officer
Greater Shantallow Area Partnership
Northside Village Centre
Glengalliagh Road
Village Lane
Derry. BT48 8NN
Tel: 02871358787
Mobile: 07709658968